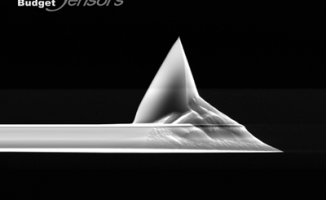 ElectriTap150-G(AFM 探针)
Application: Soft Tapping Mode,
scanning capacitance microscopy (SCM)
electrostatic force microscopy (EFM)
Kelvin probe force microscopy (KFM)
scanning probe lithography
Monolithic silicon AFM probe for soft tapping mode operation.
The rotated tip allows for more symmetric representation of high sample features. The consistent tip radius ensures good resolution and reproducibility.
The AFM holder chip fits most commercial AFM systems as it is industry standard size.
---
Coating
Electrically conductive coating of 5 nm Chromium and 25 nm Platinum on both sides of the cantilever. This coating also enhances the laser reflectivity of the cantilever.
AFM Tip
HALF CONE ANGLE
20°-25° along cantilever axis, 25°-30° from side, 10° at the apex
AFM Cantilever