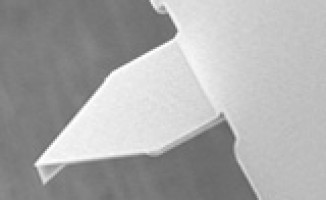 OMCL-AC55TS、高速扫描探针、快扫探针、扫描探针、高频探针
新一代的悬臂梁具有高共振频和低噪声震动,能大大提高扫描速度和极高的分辨率;

OmegaLever的突出特点
1.用于高速测量的兆赫共振频率

2.低热噪声振动,达到前所未有的分辨率

1.6MHz的高共振频率使快速扫描测量成为可能。




它可以大大实现节省您的AFM数据采集时间。
低热噪声振动,达到前所未有的分辨率
由于悬臂梁振动热噪声小,具有高共振频率和高弹性系数的特点,可实现高分辨率的测量。这是值得尝试的材料研究,如液-固界面测量.
广受好评的"可视化"针尖
可视化针尖可以很容易地定位在您感兴趣的确切点上。
探针位于悬臂梁的精确末端,因此在光学观测过程中探针尖端不被遮挡。
反射层金涂层
反射层Au 涂层coating厚度为70 nm;

---
More about OmegaLever
1. Mega Hz resonance for high speed measurement
The high resonance frequency with 1.6 MHz (Nominal) enables fast scanning measurement.
It can achieve to save your time of AFM data acquisition.
*For the use of OmegaLever, bandwidth with 2.5 MHz or above is required for the SPM sensor circuit.
X line scanning 20 Hz
Kraton (SEBS) sample courtesy of Wendy van Zoelen and Rachel Segalman, UC Berkeley.
Topography and Phase imaged with Cypher AFM courtesy of Asylum Research
2. Low thermal noise vibration for unprecedented resolution
It's low thermal noise of cantilever vibration enables high resolution measurement, which attributed to its high resonance frequency and high spring constant. It is worth while trying material research such as liquid-solid interface measurement.
4. Acclaimed 'Tip View' structure
The probe can be easily positioned at the exact point of your interest due to 'Tip View' structure.
The probe is located at the exact end of the cantilever so that the probe apex is not obscured during optical observations.
5. Reflex side gold coating
Thin gold film with the thickness of 70 nm is coated on the cantilever for reflecting light from the deflection sensor in the AFM equipment. High reflex for high S/N sensing can be expected
---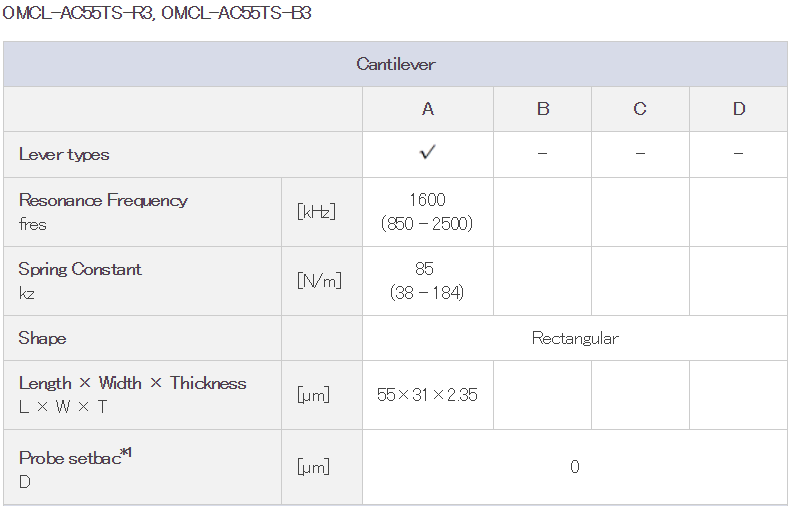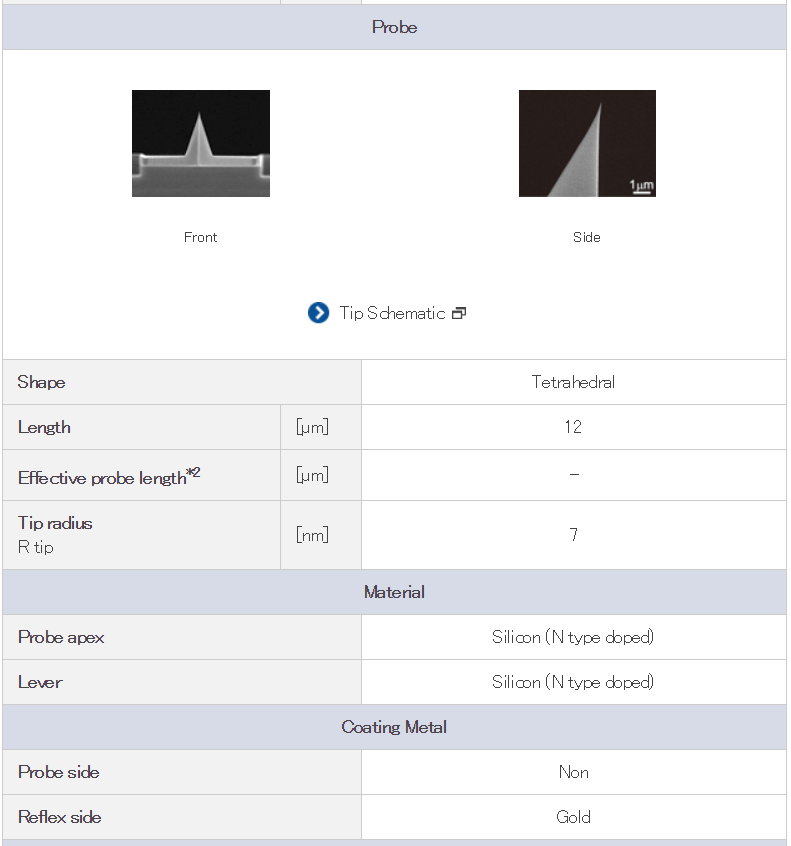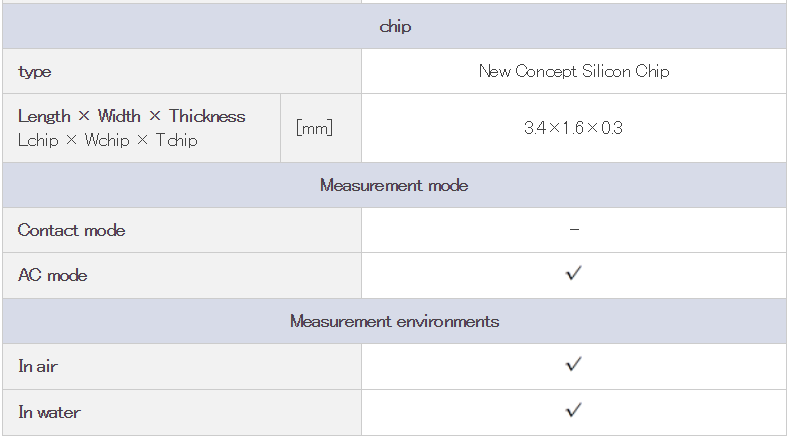 ​